This challenge is a great way to strengthen your body, clear your mind, and make a daily commitment to yourself. Join the HYM community in completing this challenge and watch your mind and body transform. To ease ourselves back into the regular routine, we will start with the HYM 40 day challenge! Anyone can join! You will receive a personal calendar to mark your visits when you sign up. You will need an active package to participate. Unlimited passes make the most financial sense. There will be a challenge special – 40 days unlimited for $120 – so members can put their class packages on hold to participate in the challenge.

When: You may start your challenge anytime from Sept 16 until Sept 22.
Rules:
Do yoga for 30 days in the 40 day period. Attending multiple classes a day do not account for missed days.
Rewards for completion:
Free Awesome 40 Day Challenge T-Shirt A chance to WIN A ONE  MONTH UNLIMITED CLASSES A BRAND NEW YOU

Common Challenge FAQs
Yoga was traditionally meant to be practiced daily. For the safety of your practice, you must listen to your body and take it at your own pace. Understand your body's signals and become more aware of your own self. Allow your body to respond properly and the 40 days will be a great success! Ask your instructors about adjustments for specific needs. Arrive early and take savasana before and after class for at least 5 minutes. Stay hydrated throughout the day and replenish your electrolytes after the class. Let go of your own ego, judgment or evaluation, and invite a sense of levity to your challenge. Simply, just have fun!
Yes, you may participate in any class on the schedule; that includes yoga, pilates and cardio. Try your best to join other classes!
It is best to set an intention/goal for your challenge. Why are you doing it? What is it that you would like to accomplish? Plan what classes fit into your regular schedule. Identify possible obstacles, and pre-plan your strategy for overcoming these obstacles. Tell your close friends and family about your challenge so they can offer support and motivation.
To sign up for the challenge, you would need to come to our front desk. If you have any questions please do not hesitate to talk to us!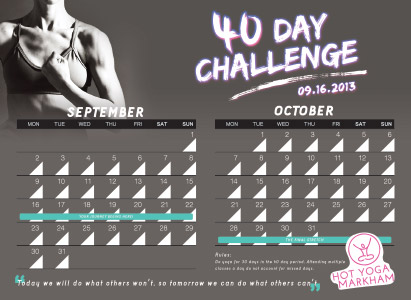 Don't forget to pick up a calendar when you sign up!